LIGHTKEEPER - Lotus Votive Holder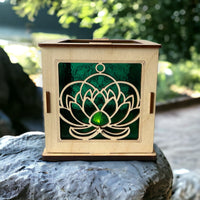 LIGHTKEEPER - Lotus Votive Holder
Designed for warm & cozy mood lighting. Our stained glass & wood votive holders offer intricate design amidst the soft glow from a battery powered tealight candle.
*Shown in "emerald" glass, but is available in other glass colors upon request.*
Measurements: 5" x 5" x 5"
Materials: stained glass & baltic birch plywood
*battery powered tealight candle IS included*
Beautiful Piece of Art!
The iridescent glass is gorgeous - and the colors that glow with light are amazing. The votive is the centerpiece of my desk and I am always amazed at the different colors that are reflected from the lightkeeper.