Mini Suncatcher - TREE OF LIFE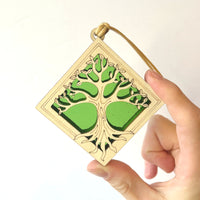 Mini Suncatcher - TREE OF LIFE
A mini version of our standard size suncatchers but made with just as much love.
The Tree of Life or World Tree has significance across many different cultures. Many different groups of people have different mythologies & symbolism towards it. 
From the well-grounded roots, the solid and secure trunk, to the ever growing branches, I wanted to incorporate growth, strength, and family into this one piece.
- Measurements: 3.5"w x 3.5"h on 24" cotton cording
MINI SUNCATCHERS
What size are they?
Mini Suncatchers are approximately 3.5" x 3.5", and can fit easily in one hand.
One of the questions we get a lot is "Where can I hang them?"

Short answer? Anywhere you'd like to add some color. It can be in your window, on a wall, near your desk, or even as a holiday ornament.
Small Square Suncatchers
Love my purchase, both given as gifts for a bday and mother's day. The colors are vibrant and the craftsmanship is stunning. Great experience and will purchase again soon for myself and/or gifts to be given.