*CUSTOM* Inscribed Faceted Heart - SUNSCREEN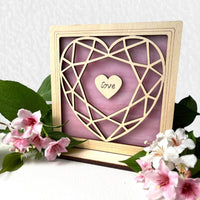 *CUSTOM* Inscribed Faceted Heart - SUNSCREEN
Intricate, brilliant and strong - all the things a heart represents.

The small floating heart in the center can be customized with a name or date (or both). This design makes for a wonderful gift or keepsake.
Our "SunScreens" are free-standing pieces that can be displayed anywhere - a window ledge, table top, bookcase, etc.
Please list the name/s or date of what you would like inscribed in the notes labeled "special instructions to seller"
Measurements: 6"w x 6 1/2"h on wood base
Inscribed heart inset measures 1 1/4"w x 1"h. Please limit inscription to 10-12 characters.

please note that glass color does vary slightly. 

want a different color?  Shoot us an email or leave it in your order comments - we have other options.
Design cut-outs are on both sides of the suncatcher. Take a look at our video to see for yourself...
STANDARD SUNCATCHERS
What size are they?
Standard Suncatchers have a 6" - 8" diameter and can bring color to your space as a solo piece or in a group of pieces.

About the size of the lid of your favorite ice cream gallon, Standard Suncatchers can be hung in a sunny window or on a wall.